2013 INDY 500 ROOKIE OF THE YEAR MUNOZ TO DRIVE NO. 34 CINSAY HONDA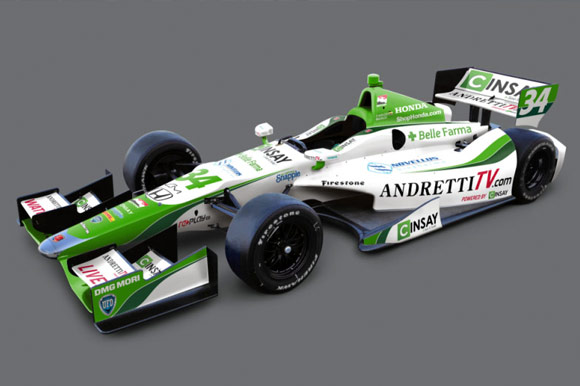 January 14th, 2014 - Making his full-time debut in the IndyCar Series, Colombian Carlos Munoz will tote a livery customized around new primary sponsor Cinsay - an Austin, TX-based company that is a leader in next-generation social video commerce technology. This fourth IndyCar entry for Andretti Autosport will once again be run as a joint effort between Andretti Autosport and HVM Racing.
Cinsay, the creator of next generation social eCommerce, viewer interactive, video-based platform for any individual or size business, utilizes SaaS based technology to enable everyone to sell products, services, capture donations and generate leads all inside the patented Smart Store™ technology.
The eCommerce company, named one of the Forbes Top 100 Most Promising Companies (2012), formed a relationship in March with 34 Solutions, a company co-chaired by All American football legend Herschel Walker. Under the 34 Commerce banner, the relationship names 34 Solutions as the licensed reseller of Cinsay's Smart Store™ technology and provides payment gateway services to process the Smart Store™ platform transactions.
The white and Cinsay-green Honda-powered Indy car will carry the No. 34 to pay honor to former footballer Walker's role in the program and to help carry on the tradition of excellence tied to the Heisman Trophy winner's iconic jersey number.
Also seen on the No. 34 Honda: AndrettiTV.com - a new website, coming soon, where fans will be able to subscribe to exclusive behind-the-scenes, live video access to Andretti Autosport's headquarters, purchase official team merchandise and more.
United Fiber & Data again expands its role within the team as an major associate sponsor on the No. 28 DHL Honda.
About HVM Racing:
HVM Racing was founded by Keith Wiggins and is based in Indianapolis, Indiana. The 2012 season marks its eleventh year of competition since forming in 2001. Since its inception, HVM Racing has earned six victories, two pole positions, 22 podiums, 40 top-five finishes and 97 top-tens. The team also earned "Indianapolis 500 Rookie of the Year" honors with current driver Simona De Silvestro in 2010. HVM finished fourth and third, respectively, in the Champ Car World Series in 2006 and 2007, and earned drivers Mario Dominguez and Robert Doornbos Rookie of the Year honors in 2002 and 2007, respectively. Follow HVM Racing at 
www.hvmracing.com
, on twitter at 
www.twitter.com/HVMracing
, and on facebook at
www.facebook.com/HVMRacing
.