Joint Andretti Autosport/HVM Racing Entry Welcomes Team Venezuela's Leading Driver EJ VISO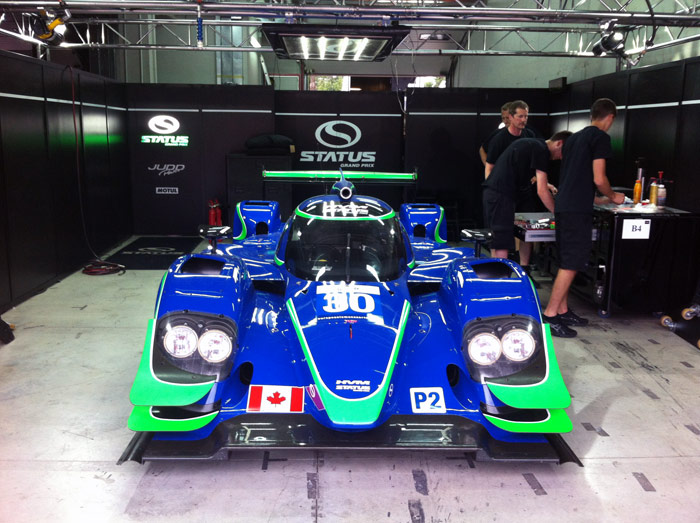 INDIANAPOLIS, Thursday, May. 17th, 2013 – Team Venezuela driver E.J. Viso has been signed to pilot the Andretti/HVM entry in the 2013 IZOD IndyCar Series. Viso will drive the No. 5 Team Venezuela PDVSA Chevrolet, which joins with Andretti's other full-season efforts of reigning series champion Ryan Hunter-Reay, James Hinchcliffe and Marco Andretti. The entry is a result of an off-season collaboration between HVM Racing and Andretti resulting in a joint entry supporting Team Venezuela for the upcoming IndyCar season.
The unique three-way deal represents a win-win-win scenario with Andretti Autosport returning to its traditional four-car fulltime lineup, Viso joining the championship-defending team and HVM Racing securing an arrangement that provides for continuation of its business in IndyCar for the Indianapolis-based team owned by Keith Wiggins.
"I could not ask for more than to get the opportunity to drive for a championship team while representing my country," said 27-year-old Viso. "After five years in the series I believe I have found the right environment and look forward to having Ryan, James and Marco as teammates. I'm very proud to be able to move into the 2013 season with this new relationship; it's a dream come true."
Now entering his sixth season with the IndyCar Series, Viso began his racing career via go karts at the age of five, capturing five Winter National Karting Championships. At just 15 he joined the world of Formula Car racing and captured victory at 19 out of 22 events in his debut year. Viso went on to win the Formula 3 British Championship and became the youngest driver in the Formula 3000 International the following year.
The racing veteran continued his climb into the motorsports world by joining the IndyCar Series in 2008 with HVM where he has recorded six Firestone Fast Six appearances, 16 top-10 finishes, and has led a total of 52 laps during his five years racing in North America's elite championship.
A native of Caracas, Venezuela, Viso is deeply rooted in his heritage and a well-respected ambassador to his country. He will represent Team Venezuela as their premiere racer and only Latino-born driver currently competing full time in the IZOD IndyCar Series. Dedicated to the development and support of their native-born racing talents, Team Venezuela has been formed by native Venezuelan and long-time racing supporter Vicente Tralci.
"I have been following E.J.'s career for quite some time and was able to help him get his start in racing 22 years ago," said Tralci. It's an honor to be able to bring this opportunity to him and to pair with Andretti Autosport. It has always been our dream to be partnered with a team of such high reputation or results.
The No. 5 Chevy entry will also be supported by Venezuelan-owned petroleum company Petroleos de Venezuela, S.A. (PDVSA).
"We are happy to welcome E.J. (Viso) to the team," said Andretti. "He has shown speed in his early years as a driver which we view as very promising, and his personality will lend well to the overall chemistry of the drivers and crew. I'd like to thank Keith (Wiggins) and HVM for their assistance in this project."
About HVM Racing:
HVM Racing was founded by Keith Wiggins and is based in Indianapolis, Indiana. The 2012 season marks its eleventh year of competition since forming in 2001. Since its inception, HVM Racing has earned six victories, two pole positions, 22 podiums, 40 top-five finishes and 97 top-tens. The team also earned "Indianapolis 500 Rookie of the Year" honors with current driver Simona De Silvestro in 2010. HVM finished fourth and third, respectively, in the Champ Car World Series in 2006 and 2007, and earned drivers Mario Dominguez and Robert Doornbos Rookie of the Year honors in 2002 and 2007, respectively. Follow HVM Racing at 
www.hvmracing.com
, on twitter at 
www.twitter.com/HVMracing
, and on facebook at
www.facebook.com/HVMRacing
.
About Andretti Autosport
Based in Indianapolis and led by racing legend Michael Andretti, Andretti Autosport fields multiple entries in the IZOD IndyCar Series. Andretti Autosport also campaigns multiple cars in Firestone Indy Lights, the Pro Mazda Championship and in the USF2000 National Championship. The company boasts four IZOD IndyCar Series championships (2004, 2005, 2007 and 2012), two Firestone Indy Lights titles (2008 and 2009), one USF2000 championship (2010) and has won the Indianapolis 500 twice (2005 and 2007). For more information, please visit
AndrettiAutosport.com
.