FLORIDA GOVERNOR RICK SCOTT AND FIRST LADY ANN SCOTT VISIT HVM STATUS GP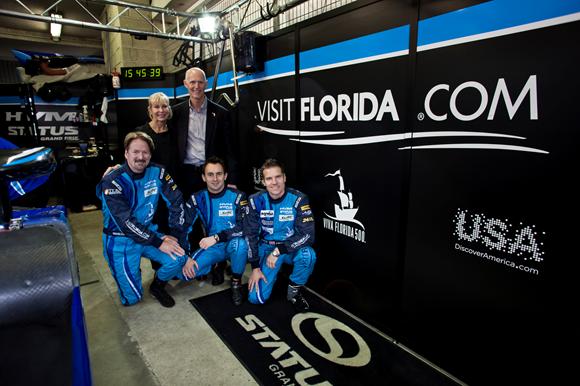 Le Mans, June 22 2013 - HVM Status GP has had some very special visitors during Le Mans 24 Hours week – Governor of Florida Rick Scott and First Lady Ann Scott.
Fresh from leading a delegation of nearly 80 Florida-based aviation, aerospace and defence companies to the Paris Air Show, Governor Scott dropped in to watch preparations for Thursday's qualifying on the VISIT FLORIDA-backed Lola Judd B12/80 Coupe.
VISIT FLORIDA President and Chief Executive Officer Will Seccombe hosted the Governor's visit to Le Mans, which included meetings with major companies and principal stakeholders in Florida, before a tour of the HVM Status GP pit garage.
Team personnel, including co-team principal David Kennedy and technical director Rob Arnott, explained the finer details of the LMP2-class racecar to the Scotts on their visit to the pit garage, while the Governor and his First Lady got to meet the teams' race drivers, Canadian Tony Burgess, Swiss Jonathan Hirschi and Briton Johnny Mowlem.
Seccombe said: "It's a valuable opportunity to use our partnership with the team to promote Florida as the number one travel destination in the world, and what better way to do than with the number 30 car in the number one sporting event in the world - 24 Hours of Le Mans - in front of an audience of hundreds of millions around the globe?
"Governor Scott has been a fantastic advocate of the Florida tourism industry. The fact that he leant his support to VISIT FLORIDA's inaugural racing effort at Le Mans is a great indication of the power of the partnership and of Florida tourism."
The year 2013 is hugely important to the Sunshine State of Florida, which is celebrating its 500th anniversary. The HVM Status GP Lola includes the branding of VISIT FLORIDA's travel planning website
VISITFLORIDA.com
, Viva Florida 500 and Brand USA.
HVM Status GP team principal Teddy Yip said: "We have been honoured to receive the Florida Governor and the First Lady during Le Mans week, especially as it ties in so neatly with our association with VISIT FLORIDA. We hope they enjoyed their visit and that they got some great insight in what makes this race such a global phenomenon."
With no circuit running, Friday was crammed full of off-track activity for the Le Mans 24 Hours competitors. HVM Status GP completed driver-change practice, before Burgess, Hirschi and Mowlem went to the city centre for the traditional Driver Parade in front of a crowd of 200,000 people.
The team then completed the 45-minute warm-up session on Saturday morning with no problems. Mowlem will start the car from 24th position on the 56-car grid.
Yip added: "Now that it's almost race time, all I can say is 'Let's go racing!'"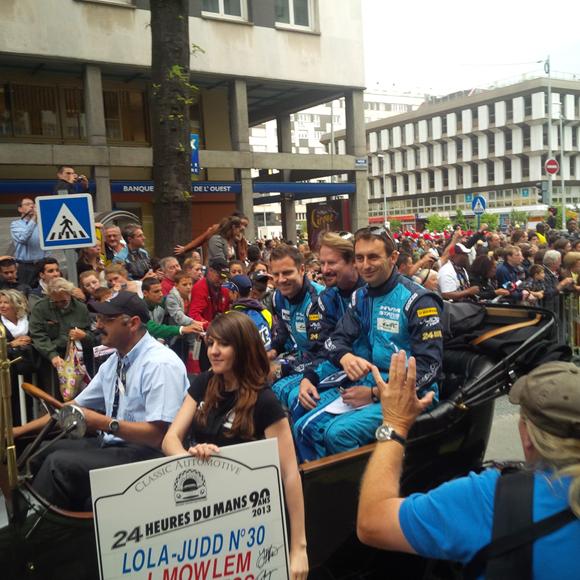 Mowlem, Burgess and Hirschi enjoy Friday's Le Mans Driver Parade
About HVM Racing:
HVM Racing was founded by Keith Wiggins and is based in Indianapolis, Indiana. The 2012 season marks its eleventh year of competition since forming in 2001. Since its inception, HVM Racing has earned six victories, two pole positions, 22 podiums, 40 top-five finishes and 97 top-tens. The team also earned "Indianapolis 500 Rookie of the Year" honors with current driver Simona De Silvestro in 2010. HVM finished fourth and third, respectively, in the Champ Car World Series in 2006 and 2007, and earned drivers Mario Dominguez and Robert Doornbos Rookie of the Year honors in 2002 and 2007, respectively. Follow HVM Racing at 
www.hvmracing.com
, on twitter at 
www.twitter.com/HVMracing
, and on facebook at
www.facebook.com/HVMRacing
.
About Status GP:
Based in Silverstone, England, Status Grand Prix was formed in 2005 to campaign the A1 Team Ireland franchise in the new A1 Grand Prix Series.  The team's shareholders are comprised of former Jordan Grand Prix head of Marketing Mark Gallagher, former FIA Formula One World Championship driver David Kennedy, and Teddy Yip, Jr., who's father Teddy Yip owned the Theodore Racing Formula One team.  The team captured the A1 GP season championship in 2008-2009 and has been competing in the GP3 series under the Status Grand Prix banner since 2010, finishing second in the team championship.  Follow Status Grand Prix at
www.statusgp.com
or on twitter
@StatusGrandPrix.com
or on Facebook
atstatusgrandprix
.