Thank You to a Special Fontana Race Guest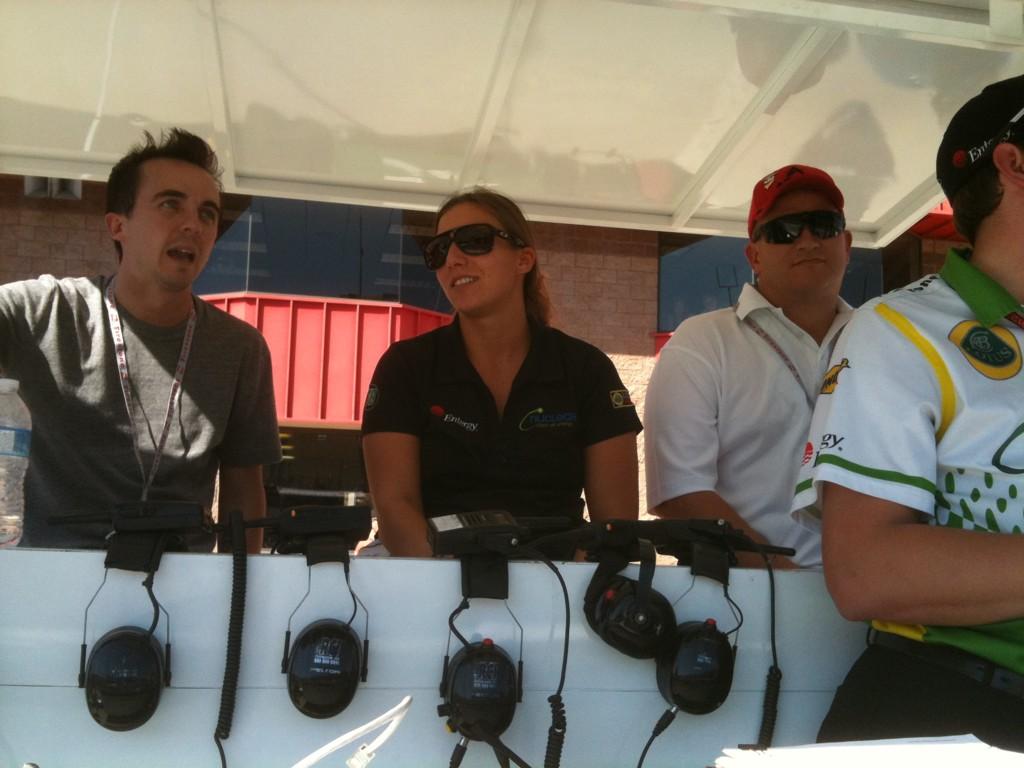 During any given race season, we meet a lot of different people. In addition to the fans in attendance, our sponsors bring guests to our races from various backgrounds. We enjoy getting to know and entertain them all. But, every now and then we meet someone who we know immediately will leave a lasting impression. Scott David is one of those people.
Mr. David was invited to the IZOD IndyCar season finale in Fontana as a guest of AREVA, one of HVM Racing's Nuclear Clean Air Energy sponsors and one of the largest clean energy companies in the world. David met AREVA recruiter Amy St. John at a 'Hiring Our Heroes' job fair in Lynchburg, VA and was recently hired within the Reactors and Services group. What happened next surprised the retired Army vet.
"While we were waiting for the background checks to come back," he said, "I got a phone call from AREVA saying, We don't have your background check back, but how would you like to go to an IndyCar race with us? I'm like, What? It was a shock to my system; I didn't expect anything like that."
David, who officially started work with AREVA the day after returning from the Fontana race, served in the Army's infantry for 23 years. He was also a paratrooper, serving in the first Gulf War (1990-1991), Bosnia (1996), two tours in Afghanistan (2006 and 2010-2011), and was stationed in Germany on three separate occasions. David understands the importance of team work and immediately picked up on how that aspect of racing mirrors his experience in the military.
"You can't accomplish anything by yourself," he said; "it takes a team to accomplish any mission. You have the same thing, everybody has their area that they're the expert in or that they have the most knowledge in and that's what they contribute, but it's everybody working together to accomplish the mission, whatever that may be. Seeing the guys working in the pits and listening to them on the radio, everybody's got something they add to it to make everything work."
Driver Simona De Silvestro took time to show David the team's pit box and explain how the team is able to see everything she does in the car through telemetry and other aspects of the technologies that go into IndyCar Racing.
"It was fun showing Scott around," she said. "I showed him the monitors for the telemetry and how everything unfolds on a race weekend. I hope he had fun."
Having lived in Europe, David admits to being a Formula One fan and has not followed IndyCar seriously up to this point. He found it interesting and enjoyable.
"I watched the Indy 500 a few times," he said, "but that's as far as it went. It's been interesting. It's been a learning experience with all the technology that goes into the cars and the telemetry that comes back off the cars and how they analyze it, process it to make the car better. It's been fun. I know it's an experience that most people don't get to have; being in the garage, in the pits to watch practice, and seeing everything that goes on behind the scenes. It's been very interesting and I've enjoyed it a lot."
AREVA's newest employee is also looking forward to starting his new job. David will be working out of their Lynchburg, VA facility, but traveling quite a bit this fall as a member of AREVA's outage services team. In this capacity, he will support scheduled refueling outages at civil nuclear electric generation stations. These outages typically occur every 18 to 24 months for normal refueling and maintenance activities.
Having hired over 20 veterans since they began their recruiting efforts in January of this year, AREVA is proud of the success they've seen with their recruiting efforts through the Hiring Our Heroes initiative, and happy that they were able to bring one of those veterans to the Fontana IndyCar race. So are we.
"Yesterday, somebody called me a hero," David told me. "I'm not a hero. I'm just a guy who did my job. It's never been about me; it was my job and I loved it."
While Mr. David doesn't see himself as a hero, we most certainly do. Without men like Scott David doing their jobs, we wouldn't be free to do ours and we're proud to have a sponsor like AREVA who makes a point of hiring veterans like him. Thank you Scott; it's been our pleasure.
About AREVA
AREVA provides its customers with solutions for low-carbon power generation in North America and all over the world. As the leader in nuclear energy and a significant, growing player in the renewable energies sector, AREVA combines U.S. and Canadian leadership, access to worldwide expertise and a proven track record of performance. Sustainable development is a core component of AREVA's strategy. Its nearly 5,000 U.S. and Canadian employees work every day to make AREVA a responsible industrial player helping to supply ever cleaner, safer and more economical energy to the greatest number of people. AREVA Inc. is headquartered in Bethesda, Md. For more information visit:
www.us.areva.com
.
About HVM Racing
HVM Racing was founded by Keith Wiggins and is based in Indianapolis, Indiana. HVM enters 2011 as its tenth year of competition since forming in 2001 and has earned six victories, two pole positions, and an additional 16 podiums. They earned "Indianapolis Rookie of the Year" honors with driver Simona De Silvestro at the 2010 event and since joining the IZOD INDYCAR Series in 2008, the team has earned nine top-10 finishes. HVM finished fourth and third, respectively, in the Champ Car World Series in 2006 and 2007, and earned drivers Mario Dominguez and Robert Doornbos Rookie of the Year honors in 2002 and 2007, respectively. Follow HVM Racing at 
www.hvmracing.com
, on twitter at 
www.twitter.com/HVMracing
, and on facebook at
www.facebook.com/HVMRacing
.
About Lotus
Group Lotus plc, is based in Norfolk, UK, and has three operating divisions: Lotus Cars, Lotus Engineering and Lotus Motorsport.
Lotus Cars builds world class, high performance sports cars including the award-winning Evora, the iconic Elise and the stunning Exige and the road / track orientated 2-Eleven. Lotus New Era, the future product line-up, was unveiled in Paris on 30th September 2010 featuring the new Esprit, Elan, Elite, Elise and Eterne.
Lotus Engineering provides comprehensive and versatile consultancy services to many of the world's OEMs and Tier 1 suppliers and is an internationally recognised automotive engineering consultancy. Global facilities include those in the US, Malaysia, China and offices in Germany and Japan. Lotus is a global high-tech company, committed to driving forward technology for both Lotus Cars and its Engineering clients, spearheading research into such areas as hybrids, electric vehicles and renewable fuels.
Lotus Motorsport operates the motorsports activities of Lotus and includes the strategy to return the Lotus name to a great number of series including endurance racing with GT2, GT4 and LMP2, single seater racing with GP2, GP3 and IndyCar. Lotus has also returned to F1 with Lotus Renault GP from the start of the 2011 F1 racing season onwards.
For more information about Group Lotus please contact:
PR Department, Group Lotus plc, Potash Lane, Hethel, Norfolk, UK, NR14 8EZ
Tel: +44 (0)1953 608264 Email:
pr@lotuscars.com
About Entergy
Entergy is the second largest owner and operator of U.S. nuclear energy plants. They operate or provide management services to 12 reactors at 10 sites. Entergy Corporation is an integrated energy company engaged primarily in electric power production and retail distribution operations. Entergy owns and operates power plants with approximately 30,000 megawatts of electric generating capacity and delivers electricity to 2.7 million utility customers in Arkansas, Louisiana, Mississippi and Texas. Entergy has annual revenues of more than $11 billion and more than 15,000 employees. Follow at
www.NuclearCleanAirEnergy.com
and
www.entergy-nuclear.com
; on Twitter at
www.twitter.com/EntergyNuclear
and
www.twitter/NuclearCleanAir
, and on facebook at
www.facebook.com/Nuclear Clean Air Energy
.
More News