VISIT FLORIDA is to compete at the famed Le Mans 24 Hours sportscar endurance race this year in
conjunction with the HVM Status GP team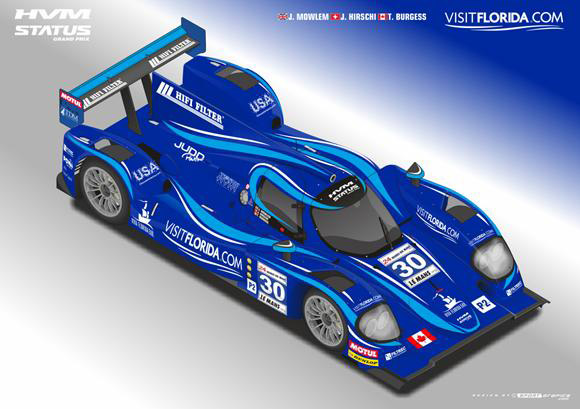 A regular sponsor in US sportscar events including with Mazda's Grand-Am SKY-ACTIV diesel programme, VISIT FLORIDA is to be the primary sponsor of the HVM Status GP's Lola-Judd B12/80 Coupe at Le Mans, which takes place in the La Sarthe region of France on June 22-23.
The car's paint scheme for this race will feature branding for VISIT FLORIDA's travel planning website
VISITFLORIDA.com, Viva Florida 500 and Brand USA.
HVM Status GP, a Canadian-registered team based in the UK, is competing in the highly-competitive LMP2 class at the round-the-clock classic, which attracts 250,000 spectators and a worldwide TV audience of 35 million viewers across 114 countries.
"VISIT FLORIDA is excited to use our presence at the world's oldest and most prestigious active sports car endurance race to invite visitors from around the globe to come help us commemorate Florida's 500th anniversary," said Will Seccombe, VISIT FLORIDA President and CEO.
HVM Status GP co-team principle Teddy Yip Jr added: "We are proud and honoured to represent the great state of Florida through our partnership with VISIT FLORIDA at this year's Le Mans race. It's a truly global event and a celebration of pioneering spirit and excellence."
VISIT FLORIDA is the state's official tourism marketing corporation, and serves as Florida's official source for travel planning to visitors across the globe. As the state's number one industry, tourism was responsible for welcoming 91.4 million visitors in 2012 who spent more than $71.8 billion, generating 23 percent of the state's sales tax revenue and employing more than one million Floridians. For every $1 spent on tourism marketing, VISIT FLORIDA generates more than $258 in tourism spending and $15 in new sales tax collections, paid by visitors, not residents.
"VISIT FLORIDA's vision is to make Florida the No. 1 travel destination in the world," said Seccombe. "And by reaching the nearly 250,000 fans in the stands, and millions more through the television audience, we know our participation here at Le Mans will remind race enthusiasts everywhere of all there is to see and do in the Sunshine State."
The HVM Status GP team is a collaboration between Keith Wiggins' successful IndyCar team HVM Racing, based in Indianapolis, USA, and the Silverstone-based Status Grand Prix team, which made its debut at Le Mans in 2012.
The drivers of the VISIT FLORIDA Le Mans entry are established British ace Johnny Mowlem, five-time Le Mans starter Tony Burgess of Canada, and rising Swiss sportscar racer Jonathan Hirschi. They will begin preparations for the round-the-clock classic on Sunday June 9 at the official Le Mans Test Day, which features eight hours of running on the 8.47-mile circuit.
About HVM Racing:
HVM Racing was founded by Keith Wiggins and is based in Indianapolis, Indiana. The 2012 season marks its eleventh year of competition since forming in 2001. Since its inception, HVM Racing has earned six victories, two pole positions, 22 podiums, 40 top-five finishes and 97 top-tens. The team also earned "Indianapolis 500 Rookie of the Year" honors with current driver Simona De Silvestro in 2010. HVM finished fourth and third, respectively, in the Champ Car World Series in 2006 and 2007, and earned drivers Mario Dominguez and Robert Doornbos Rookie of the Year honors in 2002 and 2007, respectively. Follow HVM Racing at 
www.hvmracing.com
, on twitter at 
www.twitter.com/HVMracing
, and on facebook at
www.facebook.com/HVMRacing
.
About Status GP:
Based in Silverstone, England, Status Grand Prix was formed in 2005 to campaign the A1 Team Ireland franchise in the new A1 Grand Prix Series.  The team's shareholders are comprised of former Jordan Grand Prix head of Marketing Mark Gallagher, former FIA Formula One World Championship driver David Kennedy, and Teddy Yip, Jr., who's father Teddy Yip owned the Theodore Racing Formula One team.  The team captured the A1 GP season championship in 2008-2009 and has been competing in the GP3 series under the Status Grand Prix banner since 2010, finishing second in the team championship.  Follow Status Grand Prix at
www.statusgp.com
or on twitter
@StatusGrandPrix.com
or on Facebook
atstatusgrandprix
.